Founded in 2008, IEc's Green Committee consists of employee volunteers who track the environmental impact of our facilities and operations and promote initiatives to reduce our impact. In accordance with IEc's Sustainability Policy, we are committed to:
Pursuing alternative transportation, energy efficiency, waste minimization, and recycling measures in our workplace;
Measuring and managing our carbon footprint; and
Engaging employees to advance sustainability at work, at home, and in our community.
Sustainability at a Glance: 2021
Workplace Sustainability
IEc's office is located in the Carriage building,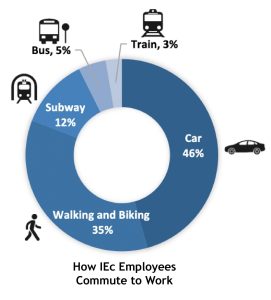 a renovated historic building in a section of Cambridge that is accessible by multiple modes of transit, with the majority of our employees walking, biking, or taking public transportation to work. To promote alternative transportation use, IEc employees can pay for certain commuting expenses on a pre-tax basis and have access to discounted Bluebikes and Zipcar memberships.
Within our office space, IEc promotes energy efficiency with an open floor plan that takes advantage of natural daylight and efficient lighting fixtures throughout. IEc renovated parts of the office, which included installing LED lights, reusing existing furniture where possible and donating the rest to organizations including nonprofits, and using appropriately-certified materials for installation – for example, the drywall is GREENGUARD Gold Certified, carpet is Cradle-to-Cradle Certified, flooring is certified sustainable, paint is low VOC and qualifies for LEED® v4 credit, dishwashers are EnergyStar and rated for minimal water consumption, and coffee machines use compostable coffee pods and are designed to reduce waste.
IEc also strives to reduce our environmental footprint through aggressive waste minimization and recycling measures. To minimize waste, IEc provides reusable dishware and kitchen towels for employees' use, gives each new hire a reusable water bottle and tote bag, and offers employees the option of receiving electronic paystubs. In addition, IEc recycles paper, cardboard, plastic bags, and plastic, glass, and metal containers; composts food waste and paper towels; and works with local companies to reuse or safely recycle electronic waste from work and home.
Carbon Footprint
IEc is proud to have achieved carbon neutrality for our office operations (scopes 1 and 2) by participating in our utility's renewable power program and purchasing Build New RECs. IEc calculates our carbon footprint annually by tracking scope 1, 2, and 3 emissions from business operations and employee practices. Our carbon footprint includes emissions from electricity consumption, HVAC, employee commuting, and business travel. The results of this analysis allow us to examine carbon intensive practices and inform IEc's carbon reduction strategy.
Employee Engagement
Another key focus of IEc's efforts is to encourage employees to pursue sustainability at home and in our community. To do so, IEc sponsors a series of employee-led "skill shares" on how to integrate more environmentally friendly practices into everyday activities. Examples of recent skill shares include cooking with local ingredients, eco-friendly shopping, bike maintenance, gardening, and composting. Each year, IEc staff also participate in volunteer events with local environmental organizations, such as the Bikes Not Bombs, Charles River Watershed Association, Emerald Necklace Conservancy, and others.